Are you trying to remove duplicate or unverified listing from your Google My Business Listing? You are the rightful owner of the business listings but still unable to delete it because it is throwing an error message
"Couldn't remove location. Check your permissions, or try removing locations individually."
Followed all the tutorial step by step on official google my business page but still no luck? Don't worry! We got your back. In this GMB course, I'll show you
How you can remove your listing in 5 easy steps.
Log in to Google My Business Account
Click on Manage Location
Select and GMB listing you want to remove
Remove GMB listing.
You are done!
Follow the steps carefully, and thank me later 😛

STEP 1
First, go to Google My Business and sign in to your GMB account.
STEP 2
Navigate to Manage Locations option from the left menu selected, you will see all the listed verified/unverified/duplicate and closed business listing under your account.
STEP-3
Choose the business listing you want to remove and head over to action scroll button located under top right area as shown in the image below:
Step-4
Scroll to last option item and click REMOVE Location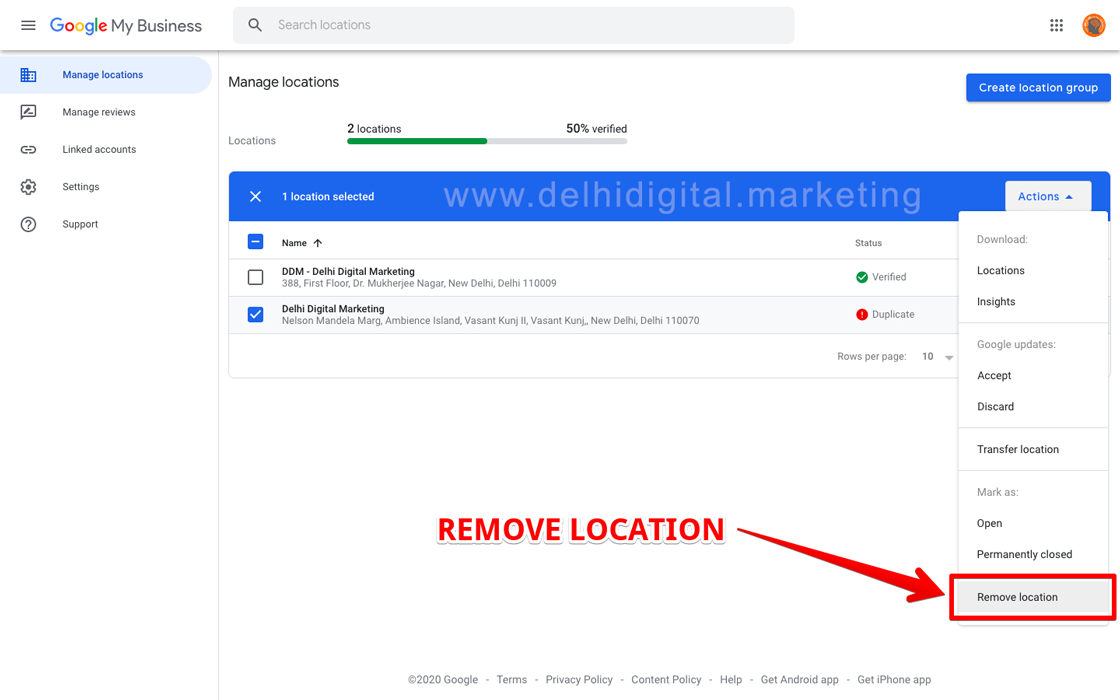 You will be prompted with a warning message read it carefully before making the last move and proceed (refer image below)
Click on remove and wait for few seconds, it may take some time to delete all the listed data.
STEP 5.
After successfully removing your unwanted business listing you will be redirected to your to Google My Business Page and you will notice that duplicate/unverified/unwanted listing has been successfully removed and disappeared from your GMB account.
Follow the video tutorial shared above If you stuck at any step by if you still face any difficulty in deleting or removing GMB business listing. Feel free to ask me by using the comment section below 🙂